Adhesive tapes for the assembly of electrical and electronic components
For the assembly of electrical and electronic components, Adhex has developed a range of adhesive tapes studied and designed according to the specificities of the market.
Supports in polyimide (PI), polypropylene (PP), polyethylene terephthalate (PET), foam… single or double sided, our adhesive tapes are designed for the assembly and the wedging of electrical and electronic components. Assembly of small parts, micromodules, batteries, screens, boxes, electronic components, insulating labels… Adhex adhesives are adapted to a wide range of uses and industrial processes in the fields of electricity and electronics. Shock resistance, chemical and degassing resistance, water and UV resistance, strong adhesion even on low surface energy materials, differentiated bonding, ultra-thin, conformable, anti-corrosive adhesives, easy to remove without leaving any residue, or, on the contrary, designed for long-lasting adhesion: the adhesives designed by our R&D department will meet the demanding requirements of electronics and computer manufacturers (assembly of smartphones and tablets…), and will be easily integrated into your manufacturing processes. Single-sided (masking, insulation…) or double-sided (assembly, wedging…), the use of flexible polyimide (PI) supports with an acrylic adhesive mass is particularly adapted to industrial environments. The properties of this material give our adhesive solutions excellent electrical and thermal performances. Adhex has developed premium products dedicated to specific uses. For example, a double-sided adhesive for gluing the coding pins of electrical outlets: this thick foam allows to absorb the roughness of the supports. Or again, fixing tapes for cable trunking (reference to building text): a double-sided foam with strong adhesion, conformable for gluing on irregular surfaces, easy to install, without tools, by simple pressure.
A complete range of adhesive tapes for the assembly of electrical and electronic components
Discover our other applications for the electrical and electronic market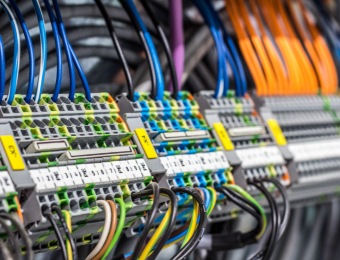 Identification Labels
Adhex has developed a wide range of adhesives for identification or instructions on various electrical products: components, connectors,...
Assembly of card components
Adhex adhesive tapes are designed for the assembly of smart cards, whether to glue the electronic circuit to the carrier or to connect it to the connector.