Medical Hydrogel for Neutral Electrodes
Lowest impedance, perfect adhesion to the skin, compatibility with electrical scalpels, adhesive cohesion, compliance with coating and cutting tolerances, biocompatability… the medical hydrogel for neutral electrodes developed by Adhex ensures optimal conductivity.
The hydrogel developed by Adhex offers conductivity and skin adhesion performances. Itl is indeed one of the thinnest on the market, ensuring a constant and homogeneous electrical power throughout the surgical procedure. Coating control on aluminized PET guarantees perfect conductivity and also respect impedance (< 50 Ohms). It avoids body injuries generated by the instruments, risks linked to the exposure of an electric current (cardiac arrest, burns…) and dissipation of heat and electricity generated by surgical instruments. In addition, Adhex hydrogel can be perfectly applied to the skin in compliance with biocompatibility standards (ISO 10-993). Adhex hydrogel respects alignment tolerances and flexibility of the coated and gel free areas, allowing easy processing and converting. The adhesive cohesion prevents contamination and pollution between the substrate and the release liner. Our adhesive solutions  are compatible with foam or non-woven backings lamination to produce neutral electrodes (without any negative interaction between the backing's adhesive chemistry and the hydrogel itself).
Our Medical Hydrogel technology for your neutral electrodes
P828
Single coated conductive medical hydrogel on a PET aluminium foil
Carrier: PET film laminated with aluminium 130 g/sqm
Adhesive: Conductive gel 100 g/sqm
Liner: Transparent PET film one side siliconized 140 g/sqm
Highly conductive hydrogel
Good skin adhesion
Suitable for neutral electrodes
Learn more about similar sensors / monitoring applications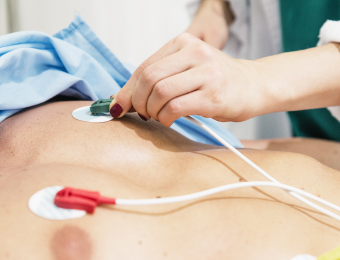 Tapes for ECG and neutral electrodes
Gradual adhesion levels together with specific backings: the optimal combination for your electromedical device
Wearable devices securement and fixation
Fixation and securement adhesive tapes for your wearable medical device: from a few minutes to several days.