Needle adhesive fixation and securement
High skin tolerance, breathability, impermeability, perfect adhesion to the skin, bacterial barrier, ease of application and removal… the adhesive devices designed by Adhex has been designed for high performance in terms of needles and central catherter securement.
The range of needle securement medical devices achieves a high level of needle safety for hemodialysis. XL Care Dermic Tape range effectively fights against needle dislodgement and protects the nursing staff from possible blood splashes. Their adhesion performance enables them to adapt perfectly to the repeatability of dialysis treatments and respect the patient's skin. Materials and the cutting and pre-cutting techniques developed by Adhex ensure an easy application and removal for the nursing staff  without altering the skin or causing pain to the patient. The PET non-woven backing provides robustness, the adhesive high breathability. These devices, which have a CE marking for bulk products, are designed with the regulatory expertise in dialysis set components acquired by Adhex over more than 25 years. Medical devices for securing central catheters intended for chemotherapy, among others, offer long-term adhesion performance. The XL Care Dermic Film IV range combines a hypoallergenic non-woven fabric with a breathable and transparent polyurethane film. The converting know how allows the needle to be placed securely and protects the puncture site from bacteria, while the fenestrated frame edge ensures ease of application. The additional safety strips reinforce the needle's hold and provide information related to the identification and traceability of the catheter placement on the patient.
Our range of adhesive solutions designed to secure your needles / central catheters
XL Care Dermic Tape
Needle securement - Catheter and gauze fixation
Carrier: White PET-Cellulose Non-Woven 34 g/sqm
Adhesive: Water-based acrylic 25 g/sqm
Liner: White paper, two sides siliconized paper 122 g/sqm
Skin friendly adhesive to reduce pain at removal
Microporous white stiff non-woven to ensure air and water vapor permeability
Individually pre-cut presentation to be applied easily
P1227
Single coated white PET-Cellulose Non-Woven
Carrier: White PET-Cellulose Non-Woven 34 g/sqm
Adhesive: Water-based acrylic 25 g/sqm
Liner: White paper, two sides siliconized paper 122 g/sqm
Breathable
Microporous aspect
XL Care Dermic Film IV
Intra venous catheter fixation with integrated non-woven strips
PU Dressing:
Applicator: Printed white paper one side siliconized 121 g/sqm
Carrier: Transparent PU film 25 g/sqm
Adhesive: Solvent acrylic 25 g/sqm
Liner: Printed paper one side siliconized 80 g/sqm
Non-woven reinforcement: P904
Integrated non-woven strips: P1227
Transparent polyurethane film for puncture site monitoring
Non-woven reinforcement for extra strength
Integrated non-woven strips to improve catheter securement
Discover Adhex all "Vascular Access" applications
Post Dialysis And Hemostasis Devices
Post dialysis hemostasis and blood coagulation tailor made adhesive solutions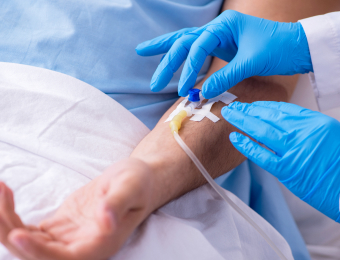 Implantable chambers protection and sealing
Additional securement and easy to use devices, with a view to protect or cover needles, used mainly for oncology and IV therapies