Secondary dressings for Woundcare
Skin adhesion performance, film conformability, water and bacteria barrier, ease of use and high skin tolerances, the Adhex range of secondary devices meets all wound care biocompatibility standards and are customizable up to individual packaging.
Adhex has been developing high-performance secondary adhesive devices for several years. These dressings guarantee primary device applied to the skin –  perfect covering. Backing is optimal to secure the wound against bacteria and water for 24 to 48 hours. Polyurethane film  watertightness and excellent conformability also guarantee easy one-handed handling and perfect dressing stability, even during showers.  Adhex has a wide portfolio of adhesive chemistries: solvent acrylic, hot melt, silicone and polyurethane gel for pain less removal. XL Care Dermic Film and XL Care Protect Film  supplied in rolls or already die-cut, meet the criteria of skin tolerances (peri-lesional skin) and comply with biocompatibility regulations: IPC, Cytotoxicity Sensitization in accordance with ISO 10993. The entire production process is entirely carried out in a controlled atmosphere.  Coating, cutting, printing and converting, Adhex integrates the whole production process, from the formulation of the adhesive to the individual sterilized packaging (or bulk / non-sterile for integration in care sets). Important investments have been made in cutting technologies allowing to design shape and size on demand. To customize dressings, Adhex also prints logos or instructions for use on the release liner.
Our converted secondary dressings for Woundcare
XL Care Dermic Film
Primary device securement
Applicator: White paper one side siliconized 121g/sqm
Carrier: Transparent PU Film 25 g/sqm
Adhesive: Solvent acrylic 25 g/sqm
Liner: White paper one side siliconized 62 g/sqm
Transparent adhesive dressing
Breathable with good skin adhesion
Application tips printed on the paper frame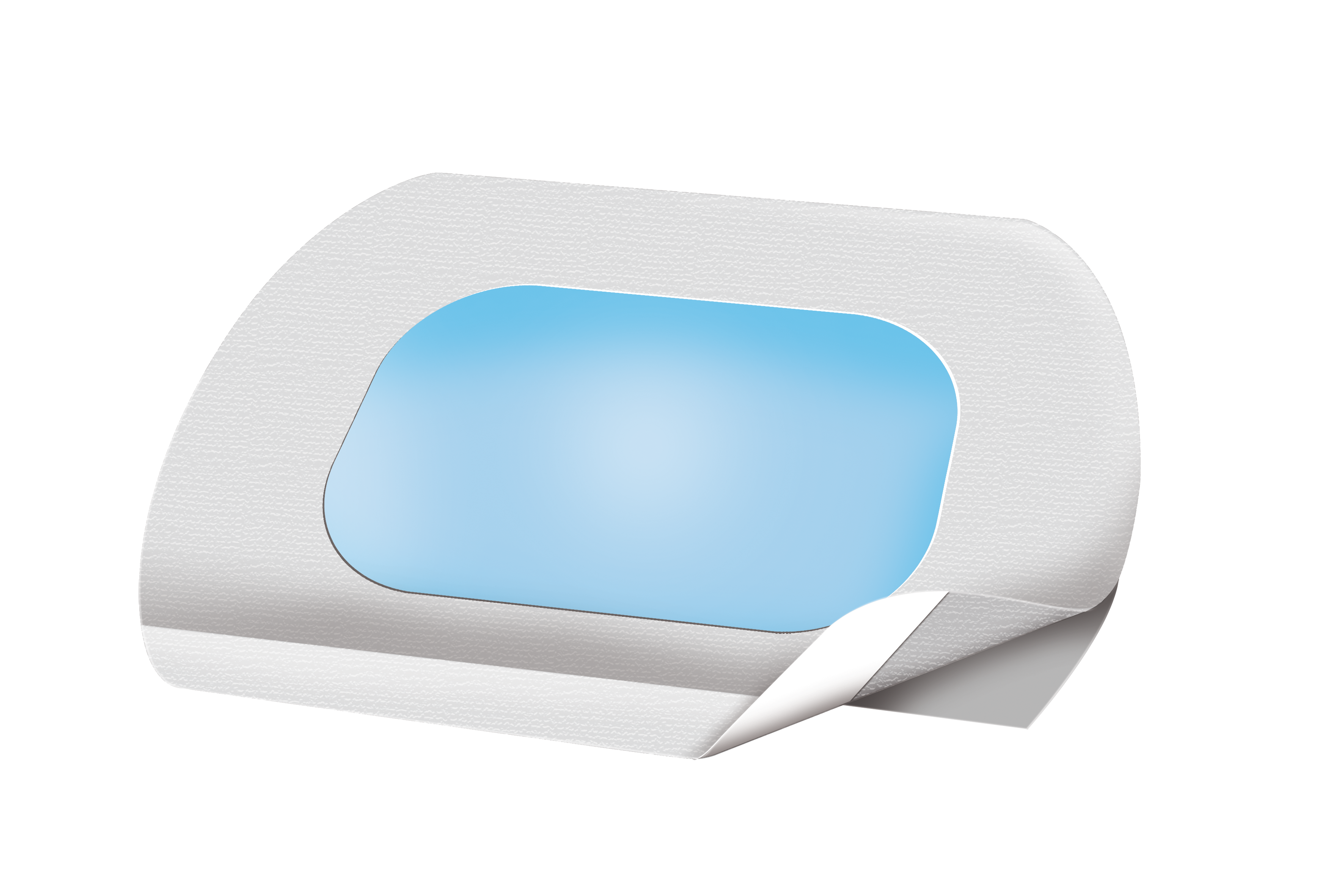 XL Care Protect Film
PU dressing with adhesive-free central area
Carrier: Non-woven PET Film 50 g/sqm
Adhesive (Open Side): Solvent acrylic 20 g/sqm
Adhesive (Closed Side): Solvent acrylic 27 g/sqm
Liner: White paper two sides siliconized 92g/sqm
Adhesive-free central area for lower risk of skin irritation and patient comfort
Breathable dressing
Good skin adhesion
XL Care Dermic Film Roll
Transparent PU Film - Wound Protection
Carrier: Transparent PU film 28 g/sqm with PE applicator
Adhesive: Solvent free acrylic 30 g/sqm
Liner: White paper one side siliconized 63 g/sqm
High skin tolerance adhesive allows the skin to breath and reduce skin maceration
Easy to cut to the desired size and shape
Partly lifted applicator for easy removal by the nurse
Find out our other applications involving skin adhesion
Advanced Wound Care
Professional Woundcare: low trauma adhesion, higher MVTR materials including technical product laminations, and tapes for NPWT systems.
Consumer Wound Care
Optimal protection, backings with high mechanical resistance and comfort on the skin, the conventional wound care range developed by Adhex offers high performance and complies with biocompatibility standards.